Digital Change of Training & Development
Digitalisierung im Trainings-Bereich ist mehr als die Summe technischer Tools, es geht weit über ein LMS hinaus. Digital Learning ist KEIN e-Learning oder Webinar! Es spart Zeit, Geld & Nerven und ist viel spannender und interaktiver! 
Digital Learning mit Technical Support! Wir arbeiten immer mit Technikern, die für einen reibungslosen Ablauf sorgen. Für unsere Kunden ist KEINE aufwendige IT Infrastruktur oder technischer Herausforderungen notwendig!! nur ein Link, ein PC | Laptop | i-Phone. Wir kümmern uns um den Rest.
Vorteile des Interactive Digital Learning:
Zeitersparnis: Inhalte für die man bisher ½ oder 1 Tag gebraucht hat, können jetzt in 2-3 Stunden vermittelt werden.
Effizienzsteigerung: TN können sich aus allen Ländern einwählen, zur gleichen Zeit, ganz egal ob 2 oder 50 TN.
Engagement Dashboard: im Digital Learning werden alle 3-5 Minuten Interaktionsmomente eingebaut um TN aktiv und engaged zu halten. Ein Dashboard zeigt an inwieweit der TN aktiv und engaged ist. Der Trainer kann entsprechend reagieren um Interaktion und Engagement der TN zu erhöhen.
Steigerung der Produktivität: ein Digitales Learning kann man ohne Schwierigkeiten in den Arbeitstag integrieren. Kein Zeitverlust durch Reisen, etc..
Kostenersparnis: ein Digitales Learning spart im Vergleich zum traditionellen Training bis zu 70% der Kosten.
MensVivat arbeitet mit international versierten Themen Experten. Wir können somit eine breite Palette an  Themen im Bereich Social Skills abdecken.
8 Dimensions of Learning
While we are focusing on interactive digital learning we are still respecting our human ways of learning. We make learning a truly holistic experience by applying 8 Dimensions of our self awareness in our learning methods.
Intellect: by presenting respective figures and numbers to underline our theses;
Emotions: by reflecting on our inner feeling and true emotions when dealing with people themes and soft skills subjects;
Imaginations: by calling our participants to actively imagine new ways of behavior to solve existing problems;
Intuition: by pairing our intellect and emotions with our inner voice and create a balance of well being in our actions;
the physical body; by physically interact with us during the sessions through interactive gadgets, break out rooms and a multitude of interactions exercises;
Willingness to learn: we make our sessions effective and interactive and keep our participants active throughout a session;
Willingness to reflect our Self: the setting allows a semi-anonymity to reflect our inner self and still maintain our integrity;
If you want to learn more about it listen to Jack Canfield: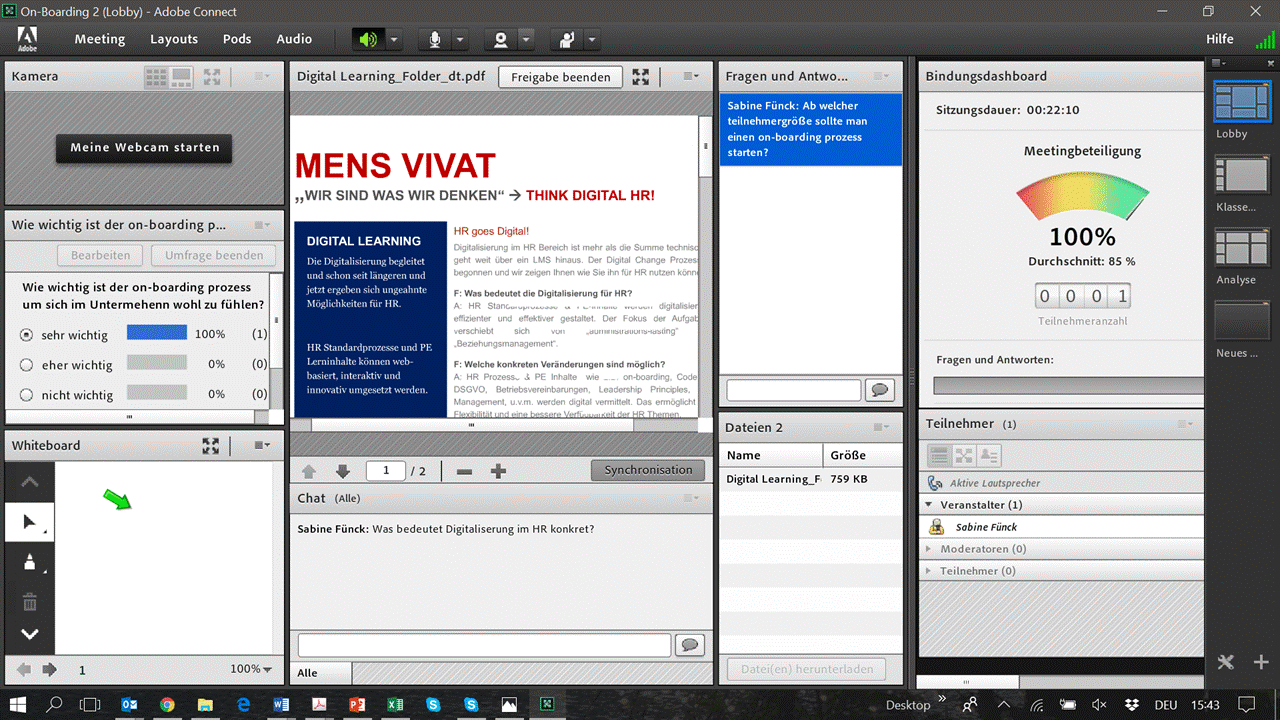 Digital Change of Training & Development
Digital Change process has started and impacts every single organisation. We show you how digital learning can fundamentally change and improve your training processes beyond LMS.
Digital Learning is far more than e-learning or webinar. It is life, interactive and actually fun.
Our virtual class room offers everything a formal class room has to offer and more. We work with flip-chart, meta-plan / whiteboards, download of materials, video and web cam, audio and chat boxes, break-out groups and technical support throughout all sessions. We work with up to 50 participants per session depending on the topic and the level of interaction. We interact with participants every 3-5 minutes and measure our engagement with participants. We receive instant feedback and adjust our interaction accordingly. This makes our training effective, focused and actually fun.
Digital Learning with technical support
All our interactive digital learning session are easy to use. There is no need to install any programs or learn how to handle IT. It's just a link to click on. All is needed is a PC/ laptop and Internet access. That´s all. All our sessions are supported by technical producer. So if there are any technical questions arising our technical producer solves it for you. It´s that easy!
Advantages of interactive digital learning sessions:
Reduced Time:training content can now be delivered in 2-3 hours. No travel time, no administrative planning, just simple log-in.
Increased Efficiency: global access for participates at the same time, same place – whether there are 5 or 50 participants.
Increased Engagement: Digital Learning requires an interaction every 3-5 minutes that increases attention and keeps participants highly motivated and engaged. An Engagement Dashboard indicates the level of interaction and provides instant feedback to the facilitator.
Increased HR Productivity: while our experienced Digital Learning Trainer delivers HR Programs, HR can focus on relationship building and strategic challenges.
Reduced Costs: no programming costs, no licence fee, no daily fees, no travel nor hotel costs, no participants' costs, just ONE program fee that reduces HR training costs by up to 70%, increase number of participants, increased efficiency of learning;
Listen to our MensVivat IDL Technology | Interactive Digital Learning